NGO Resource Mobilisation & Sustainability Masterclasses
@ Zambian Governance Foundation
---
---
---
General information
Rationale
NGOs, CSOs and CBOs have critical roles to play in providing necessary services for a variety of communities and beneficiaries throughout Africa. However, they are often reliant on grant finance, from a limited number of donors, and their staff's capacity to plan and implement business development (social enterprise) and fundraising strategies, to manage projects, to monitor, evaluate and report on program and project processes, to market their work, tell their stories effectively and to transition from donor dependency to financial sustainability is often inadequate. Moreover, skills and capacity in the areas of fundraising and organisational sustainability are often placed on senior management – without adequate support from other staff. Furthermore, changes in donor imperatives and international trends can pose increasing demands and challenges for NGO sustainability. In response to these challenges, the African Sustainability Academy (ASA) runs a variety of capacity building programs for non-profits in Zambia and throughout Africa.
Objectives
To gain a broad understanding of how to mobilize resources

To understand the Do's and Don'ts in establishing and maintaining donor relationships

To understand the principles of branding and successful media, marketing and social media campaigns

To understand the principles of successful proposal writing

To define social enterprise and social entrepreneurship

To understand the social enterprise landscape internationally and in Africa

To explore possible income generating activities which will promote long-term organizational sustainability

To understand how to define and implement projects, how to monitor, evaluate and report (MER) on project processes and cycles and how to close and de-brief projects

To understand the value of Monitoring, Evaluation Reporting (MER) in the NGO environment

To define common MER terms (outputs, outcomes, impact, domains, indicators, etc)

To gain a better understanding of MER tools and techniques

To understand how to write effective reports

To gain a broad understanding of sustainable development in the African context

To understand how to define relevant sustainable development goals and include them in project proposals

To understand how to leverage networks and partnerships

To learn from successful case studies

To network and share lessons with other NGOs/CSOs and CBOs
Targeted Participants
These Masterclasses will target NGO executive directors, fundraisers, program and project managers, marketing, communications, finance and new business development staff, monitoring and evaluation staff, HR staff, board members and decisions makers. Space is limited.
Venue/Dates/Times
Zambian Governance Foundation: 9 Mansansa Close, Off Bwinchimfumu Road, Rhodespark, Lusaka
25 February – 1 March 2019: (09h00 – 16h30 Monday –Thursday; 09h00 – 16h00 Friday).
Please book flights accordingly.
Training Format
These Masterclasses will be highly interactive and will include formal presentations, discussions, group work and other exercises.
Agenda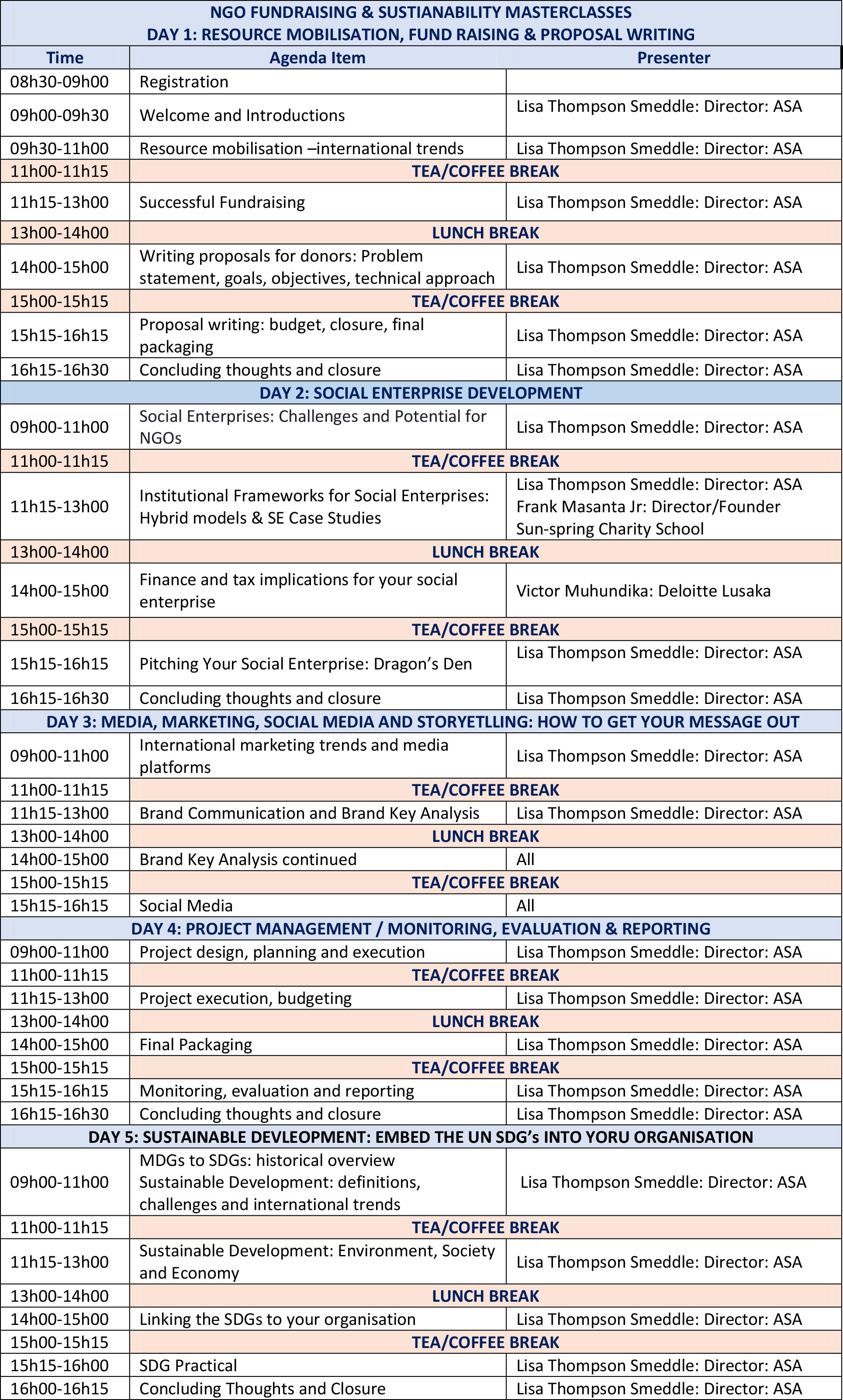 Materials
Participants will be receive the following
Course manuals

A CD which includes databases of thousands donors (valued on its own at $350 – the CD is included in the course fee), all course presentations as well as up-to-date research on each topic presented and a variety of other resources and case studies (for full time participants). Course-specific presentations for daily participants.

Activity sheets and handouts

Pen and paper

Course Certificate
Course Fees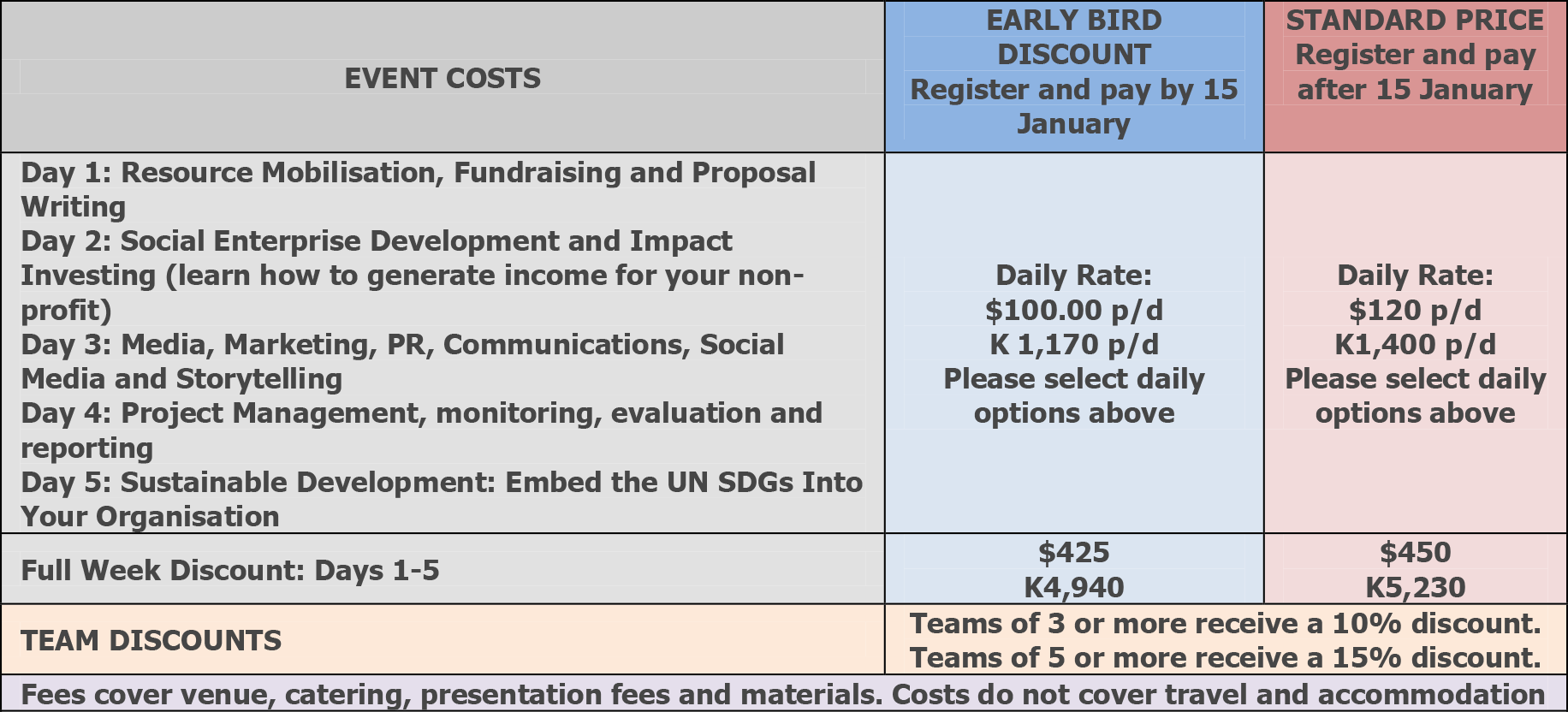 Fees cover venue, catering, materials and course fees. Costs do not cover air travel or accommodation.
For Credit Card Payments (VISA/Mastercard) Please Register Via Computicket.
Please note that payments via Computicket will be billed at the USD Rate in SA Rands
For EFT payments please fill in the attached registration form and return it with proof of payment to kalo.nanyangwe@zgf.org.zm and cc lisa@sdnafrica.org EFT payments can be made into the following account: Account name: Chuluka Limited; Account number: 800000651471; Branch code: 130010; Swift code: CVMTZMLU. PLEASE USE PARTICIPANT NAME AS A REFERENCE!
Biographies of Speakers